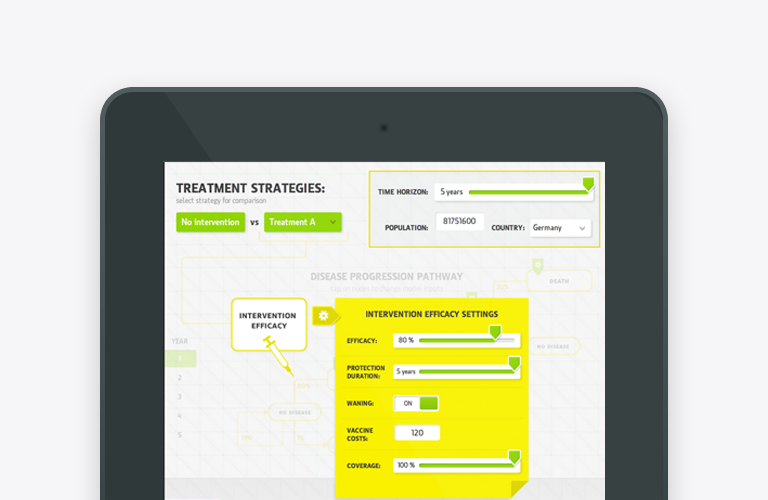 Budget Impact Model (BIM) is the health economics type of model which calculates the net cost of including a new drug or therapy into certain healthcare system or payer, hospital settings. Budget impact model app (budget impact analysis) quantifies the financial impact of a new therapy (drug, medical device, vaccine) for a decision maker (payer), thus allowing pharmaceutical and medical device companies to clearly and persuasively communicate the product cost and clinical value. It is accomplished through measuring the net cumulative cost of particular drug or therapy for a specific number of patients, with at least two (including and excluding the product in question) comparative scenarios.
How budget impact model works ?
The model application usually starts with an introduction or background of available treatment alternatives and their clinical, cost and safety profile. Then it guides the user through a logical treatment pathway (Figure 1) allowing change of inputs (cost, disease probabilities) on the go.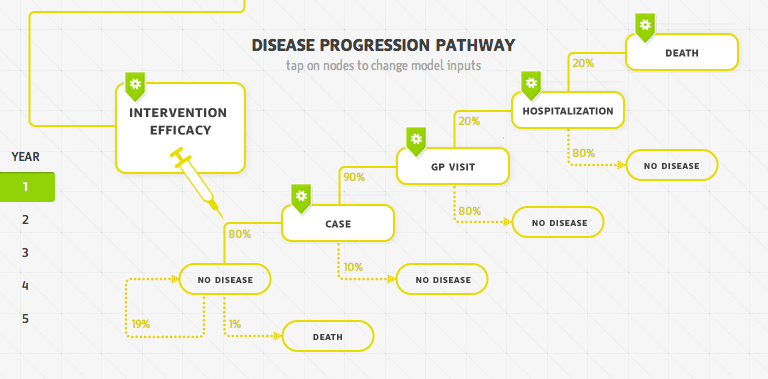 Figure 1. Disease progression and data inputs
Budget impact model results
New user inputted model parameters result in a change of outcomes (Figure 2) and budget impact model app provides payer specific financial impact results and conclusions.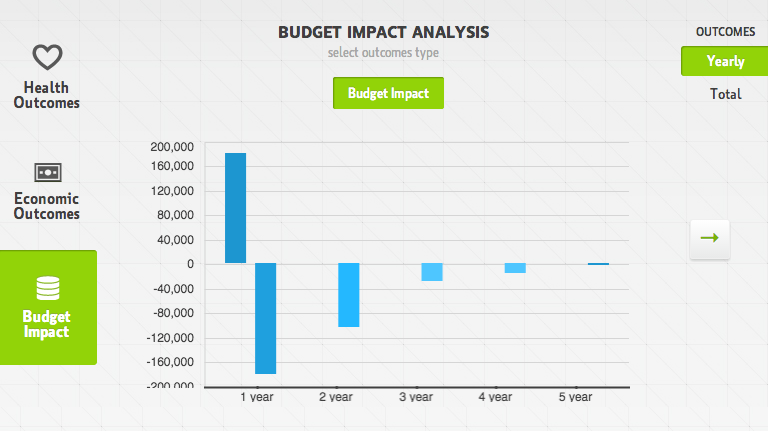 Figure 2. Model outcomes and budget impact results
The audience (doctors and payers) feel engaged because they input data during a visit, so they feel that the results are generated by themselves, thus increasing the trust for evidence presented by reps
These interactive sessions allowed budget impact model apps to become one of the best value communication and price negotiation tools used by Key Account Managers (KAM), Medical Science Liaisons (MSL) and reps. They are well suited for "across the table" sessions between drug or device manufacturers and payers/providers, especially empowered by visually appealing communication interfaces for mobile devices like iPad. A well designed iPad model increases the level of user perception and engagement, because instead of traditional bulky Excel tables the user faces friendly  and interactive applications with a number of simplifying elements like, animations, popups, interactive charts, and intuitive interface supporting presentation flow.
Modern Budget Impact Models also include additional powerful analytics tools, that gather customer perceptions and usage statistics. Usually they are represented as questionnaires embedded at the end of the customer engagement session. The user behavior data scripts track user actions during navigation session and answer the following questions "what data was modified and viewed most often?", "which elements were most interacted with ?", "was the reaction positive, negative or neutral"
Key advantages for KAM and MSL
To summarize, iPad and web budget impact models provide following advantages:
strong and clear product differentiation tool
user generated output data leads to better user engagement and trust
visually appealing interface and high clarity of message delivery
improved ability to gather user perceptions via embedded questionnaires
additional user and content analytics tools
incorporates automated summary of the business case report generation that can be emailed as pdf a to payers
can incorporate any type of custom features or functionality
For additional details please see our full article explaining advantages of eModel apps compared to Excel models
What else? 
Discover our digital cost-effectiveness model app for iPad and web to improve chances of successful engagement with stakeholders. See more examples of cost-effectiveness or budget impact models in our Gallery.