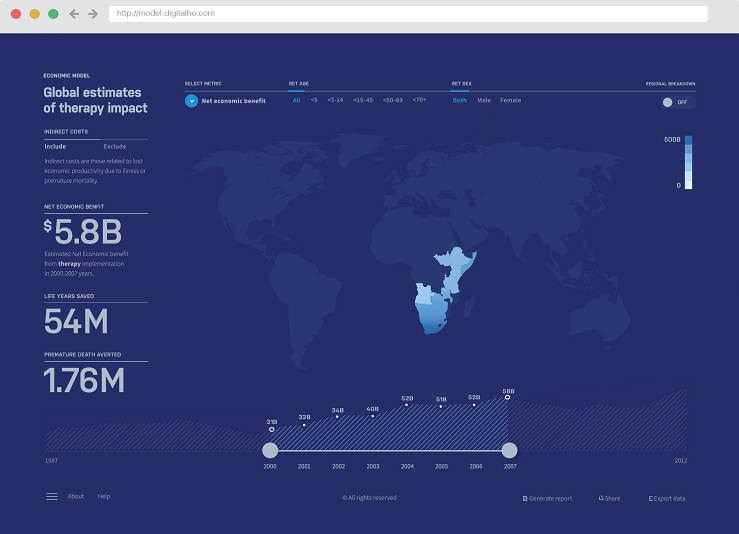 MS Excel, SAS, SPSS, R, Stata, Matlab and other statistics and modelling software packages are of great help when it comes to model core and logic development. These tools became available in mid eighties. They are around for 30 years already, but are they good enough for communication in modern digital era?
Why models need to go on web ?
The visual and functional capabilities of modern web services and mobile apps started to rapidly emerge over the past 5 years. Information and data migrated to web/cloud environments, breaking out of standalone software packages and local hard drives. Modern software solutions are nested within each other, they are interconnected and exchange data with a number of external services (calculation engines, data streaming, publishing, etc).
It is hard to argue against the immense benefits of epidemiological and health economic models available on the web. When model is deployed on the web, anybody in the world can become a modeller by accessing the model calculation core via a dedicated public or private interface!
Models don't need to stay in isolation anymore, this leads to the foregone benefits for researchers, academia and other parties willing to use somebody's else modelling work to generate personalised (country specific) results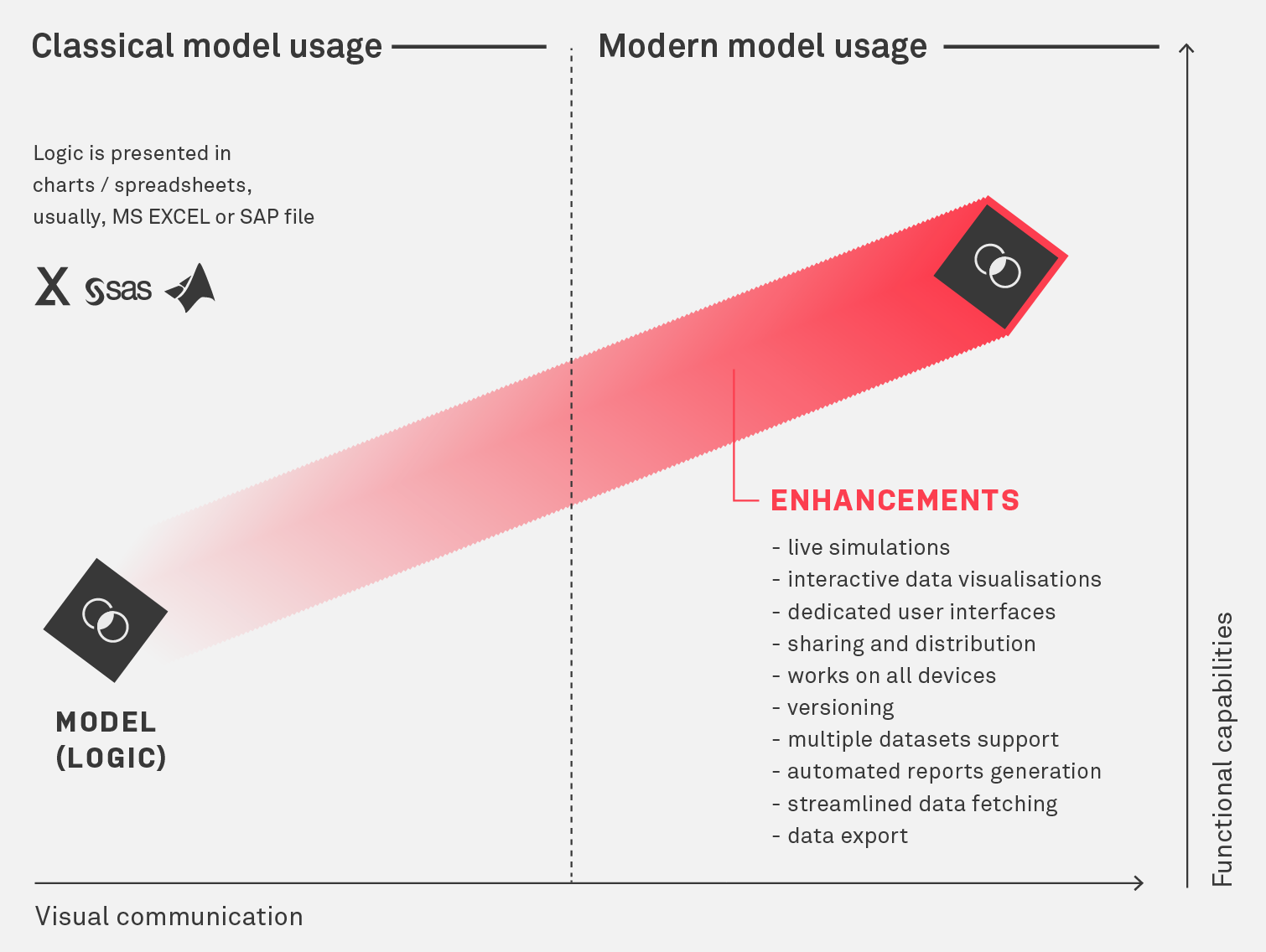 Limitations of Excel Models (BIM, CEA)
The main driver for health economic model to migrate to the web was that MS Excel, despite being one of the most popular software packages for modelling, is already not comprehensive enough to meet the wide spectrum of communication and data presentation needs in health economics as of 2016.
Excel models limitations:
Not the right tool for communication.

Excel has never been a tool for creating impactful presentations and communications, and it was never designed for storytelling. Excel's presentation capabilities are limited by interface customisation possibilities required to develop specific story flow, events, useful animations/transitions, and other user experience features. VBA can handle part of the job, but will it run on all computers, operating systems and devices?
Limited integration with other services.

Despite Microsoft's efforts in the cloud direction (Office 365), Excel still has a limited integration with external services and export/sharing barriers
Dependence on software availability and settings.

Obviously, one needs to have Excel installed and often VBA enabled to open and run the model. It is often difficult to understand whether the end user have managed to successfully run the model on his own computer
Long-running time.

It may take up to several days to run a probabilistic sensitivity analyses (Monte-Carlo) in a complex Excel model. Such long run time makes it almost infeasible to explore different parametric scenarios and modify results for publication purposes
Too technical and hard to understand.

Excel models have always required some basic technical knowledge to operate them, very often they are quite bulky and complex to understand without proper background and training
Solution: eModel – interactive health
eModel is the interactive health economic model (budget impact model, cost-effectiveness model, optimisation model, etc.) delivered as a rich web/mobile app. eModel application allows to resolve excel limitations listed above (poor presentation, integration, sharing, speed and dependence on standalone software) and achieve absolutely different, more engaging user experience. See more examples of interactive health economics models and budget impact apps on our HEOR models page
eModels have the spirit of an app with dedicated interfaces and behaviour designed to assist the user and make modelling and results communication journey as easy and clear as possible.
Interactive budget impact models were mainly developed in Flash during 2000-2010. Now they migrated to HTML5/JS browser or native environment employing powerful external libraries, parallel computing server capacities for fast calculations (up to 10 times PSA runtime decrease) and databases integration.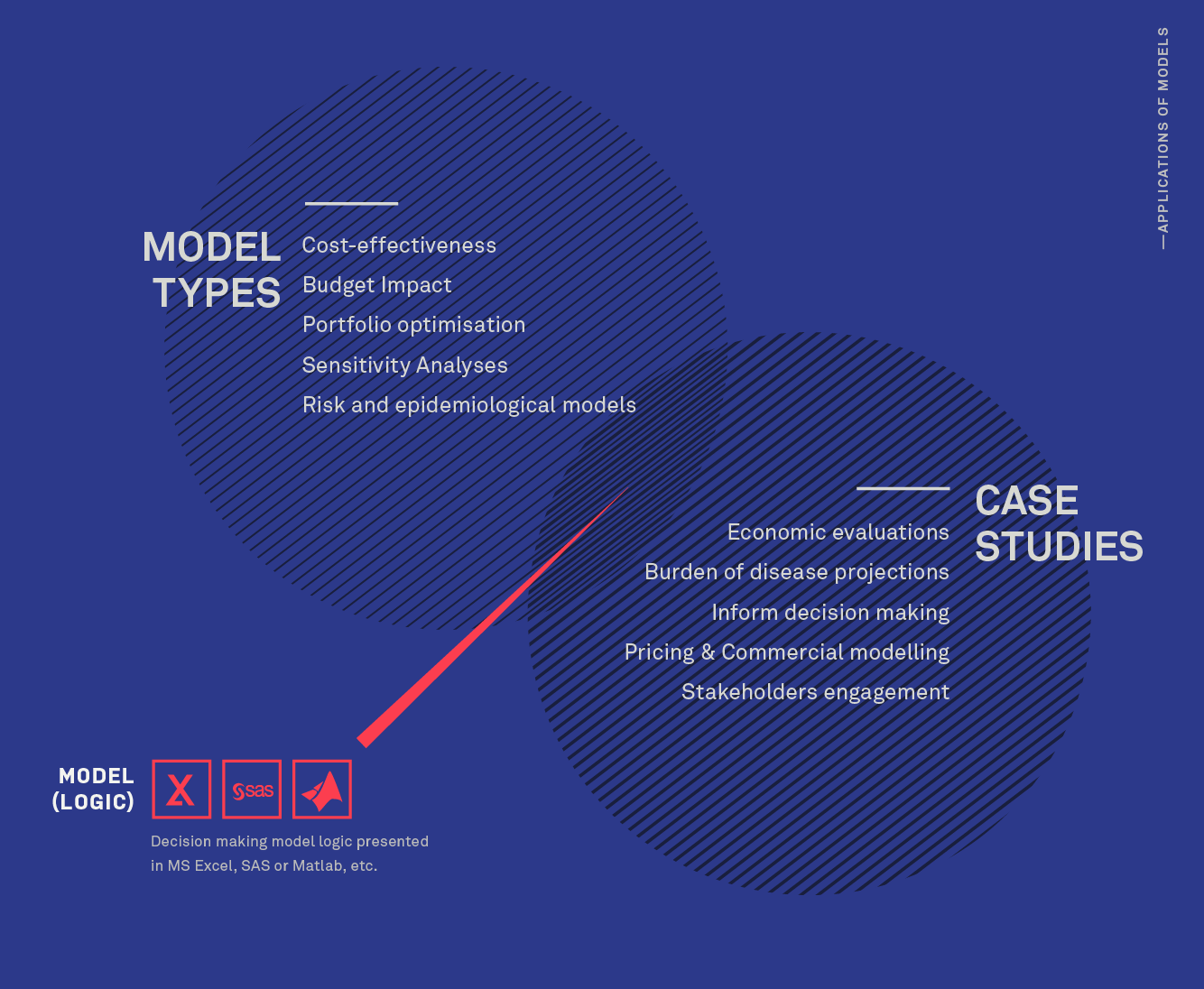 Benefits of HEOR models migration to Web and Mobile digital environments
Visual communication

Functional capabilities

Better content perception due to information architecture design and data visualization best practices.

Interactive data visualizations enable user interactions with data. They allow drilling down and exploring relations between various data points.

Unified story flow environment. Model navigation is spanning around logical communication of the economic value story.

Powerful interfaces supporting multiple storytelling modes (elevator, linear, open-world,) for different internal roles and external audiences.

Play data mode animates drug spend data in chronological order enabling the user to explore the evolution of key input parameters via interconnected live charts.

Accessible

on multiple devices (PC/Mobile), OS (Win, MacOS, iOS, Android, WinMobile) or browsers due to web cross-platform nature.

Always up to date with API integration model automatically fetches input data from external databases and data resources.

Expandable. High nesting capabilities and API enable easy eModel integration with external services and company's IT infrastructure.

Data sharing. Data sets and simulations are stored in the cloud, making evidence available for different user groups and target audiences.

Fast, and Performant. Modern web browser engines supported with powerful server capacities guarantee outstanding model calculation speed and responsiveness of the user interface.
Interactive health economics models can be delivered in the following formats:
Web app –

runs in a browser environment such as Google or Safari. This is often the most preferred, fast to develop and easy to distribute method. Web apps have excellent performance and might work even if the computer is offline, however some functionality may become available only when devices comes on-line
Native OS app

– native apps take full advantage of original device operating system and usually are more responsive and performant compared to web apps. In addition they have access to OS services (e.g. camera, microphone or e-mail client), but are limited to execution within one exact OS which they were developed for. The big limitation of native apps for mobile devices is the need to establish a dedicated distribution channel such as internal corporate app store or Apple app store, to share the app with the field force
Hybrid app –

a lightweight, standalone native app created on the code basis of existing web app. Web apps are often converted to hybrid apps in order to migrate the model to mobile devices and achieve complete offline capabilities
Application of eModels in Health Economics
Several different groups can benefit from usage of eModels within health economics and disease modelling domains, as they can successfully share data, model assumptions and model structures.
Benefits for Global Health Economists:
Provision of easy to use, engaging tools (budget impact models) for regional and local needs

Complete overview of model adoption globally, usage statistics

Instant availability of country specific datasets for multi country health economics papers and posters

Availability of useful insights from the field with automated analytics and CLM

Integration with in-house CRM like Veeva
Benefits for Regional/Local Health Economists, KAMs and Scientific Outcomes Liaisons:
Powerful decision-making and payer engagement tools delivering economic value story in an effective and impactful digital manner

Interactive data visualisations conveying the meaning of data and modelled outcomes in an easy to understand way

On the fly modification of model input data to reflect specific payer setting thus enabling important two-way dialog with the payer

Easy streamlined access to the model from multiple devices

Automated generation of business case summary reports
To summarize the key advantages of interactive health economics budget impact models (eModels) compared to traditional Excel, it is important to emphasize that eModels greatly improve user experience, especially for non-experts, personalise results for specific audiences and user groups, allow to 'slide and dice' resulting data, gather external audience perceptions for further analyses and ongoing economic value story refinement and improvement.
eModels, such as interactive budget impact model app for iPad or Web, are very easy to understand due to their design conception, they include many functional and visual improvements making them the best available tool and technique for pharmaceutical and medical device companies to engage and communicate with payers and decision makers at the global scale.